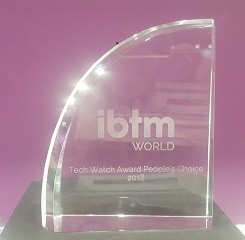 We're delighted to announce that Kubify – Learning Toolbox for ePosters won the very first IBTM People's Choice World Tech Watch Award 2018. The award was based on the votes of members of the conference, meeting and events industry and was presented at the annual IBTM World exhibition in Barcelona in November 2018.
IBTM World itself was was a wonderful chance to showcase Learning Toolbox in the innovative Exploratory Zone. We were excited by how people saw the great potential of the platform to enliven their events and improve communication, engagement and legacy. We're looking forward to bringing Learning Toolbox ePosters to many new conferences and events in 2019 and to returning to IBTM World.
IBTM Winner Kubify – Learning Toolbox for ePosters offers a fresh, interactive way to manage this important segment of many scientific meetings.