Flexible and interactive ePosters for virtual, hybrid and onsite conferences and events
Kubify's Learning Toolbox is a multi award-winning ePoster platform that is being used in virtual, hybrid and onsite conferences and events across the world.
Our approach steps away from the old paper poster model and takes full advantage of the move to a digital format.
Learning Toolbox allows people to quickly and easily build their own collections of interactive and multimedia material and share them with others. These dynamic collections can be used as ePosters, round table resources or research calling cards.
Rich ePoster content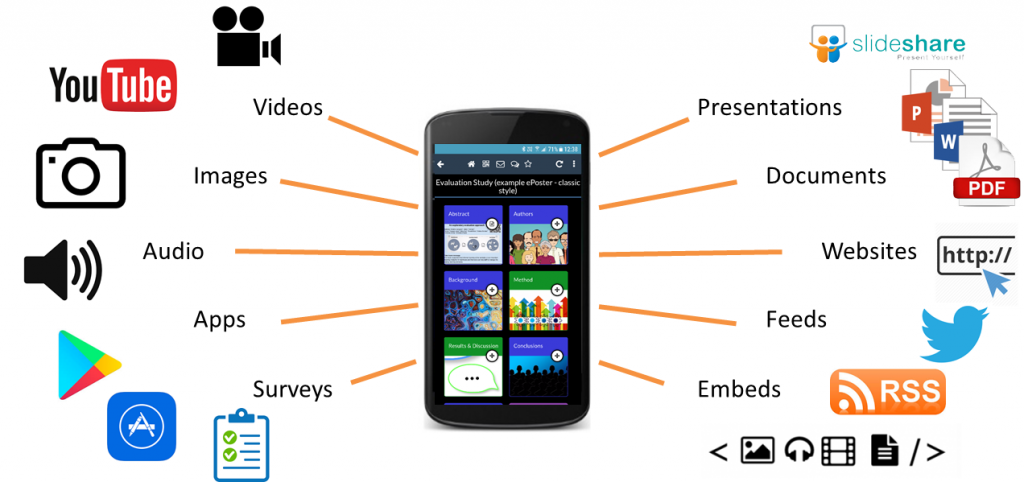 A Learning Toolbox ePoster can contain many different rich resources such as videos, images, audio, apps, presentations, twitter and links to interactive online resources.
Easy creation of ePosters
Learning Toolbox has a powerful and easy to use online editor allowing authors to easily collect, collate and display the resources that form their ePoster.
ePosters can remain editable even after publishing, so authors can update their poster following discussions at the conference. Viewers will always see the most up-to-date version.
High visibility at the event with no need for specialist equipment

Learning Toolbox also creates a mini-poster for each ePoster. The mini-posters can be displayed prominently at the event, ensuring that the ePosters have a high visibility.
Each mini-poster shows a brief summary of the ePoster and its unique QR code.
Viewers simply scan the mini-poster's QR code to open the ePoster and start exploring. Our approach uses the smart technology that people have in their own pockets. There is no need to hire expensive, specialist equipment to display the ePosters.
Online Showcase – easily find ePosters that interest you
Viewers can also browse and search the online showcase for the event, showing all the ePosters.
By simply clicking the ePoster's summary tile, the participant can view and interact with the ePoster from a standard web browser.
Suitable for multiple presentation and discussion formats

The ePosters can be viewed or presented on any online device with a web browser. This cross-platform flexibility means that they can be easily used and presented in a wide range of different meeting formats.
In an online conference format the presenter can just share their screen to present the ePoster from the browser.
In an onsite conference the ePosters can be presented in a standard presentation room or space containing a networked PC and projector.
The ePosters can also be explored on delegates' own devices (phones, tablets or laptops) and have been used to support workshops and round table sessions. Onsite and online delegates all have easy access to the ePosters so they also provide a way to connect together participants and discussions in a hybrid event.
Meaningful interactions – connecting people and sharing ideas
Viewers can explore and interact with all of the rich material and resources that an author chooses to include in their ePoster.
As well as this, Learning Toolbox provides a number of additional ways in which viewers can interact with the ePoster itself, with other viewers and with the ePoster author.
Each ePoster has a dedicated chat area that can be used by all viewers, including the author, to post questions or to share insights that are related to the ePoster or the authors' work. This discussion is attached to the ePoster itself.
Viewers can mark an ePoster as a favourite so that they can easily return to it. This also subscribes them to update notifications sent by the ePoster author.
Poster in your pocket! Authors can have their ePoster in their pocket – able to open it on their phone, show it to other delegates and share its QR code so that the other delegates can explore it on their own device.
Authors can also send messages to their subscribed ePoster viewers to announce ePoster updates or significant announcements that are related to their work.
The ePoster can link to external, interactive websites, giving the author the opportunity to include interactive elements in their ePoster such as a survey, 3D animation, clickable prototype or link to an online meeting.
Case Study – ePosters at AMEE 2017
AMEE (The Association for Medical Education) was the very first conference to use the Learning Toolbox ePosters. They used us to bring ePosters to their large, annual conference in 2017 (Helsinki 26-30th August) and we have continued working with them every year since.
You can read a short case study of the ePosters at AMEE 2017. You can also watch (see below) two of the videos that we created for AMEE's participants, explaining how the ePosters would work at their conference. Our general instructional videos and FAQs for ePoster authors can be found on our support page.
Introduction to ePosters at AMEE 2017
Exploring ePosters at AMEE 2017
Pitch Video
Want to find out more about our ideas and our vision for ePosters? Watch the very first pitch video we made about Learning Toolbox for ePosters!
Contact us
If you are interested in using Learning Toolbox for ePosters at your event or if you have any other related question, please do not hesitate to contact us.