We were delighted when the Midlands4Cities Doctoral Training Partnership choose to use Learning Toolbox for the ePosters at their 2020 Research Festival. This group of arts and humanities research students really made excellent use of the platform and produced some of the most creative and engaging ePosters that we have seen.
Their ePoster showcase is an excellent example of the rich content and interactions that can be supported by the platform. Their creative ePosters include video essays, interactive games, beautiful presentations and more. They also made great use of the chat functionality to have thoughtful and meaningful conversations and identify potential for future collaborations.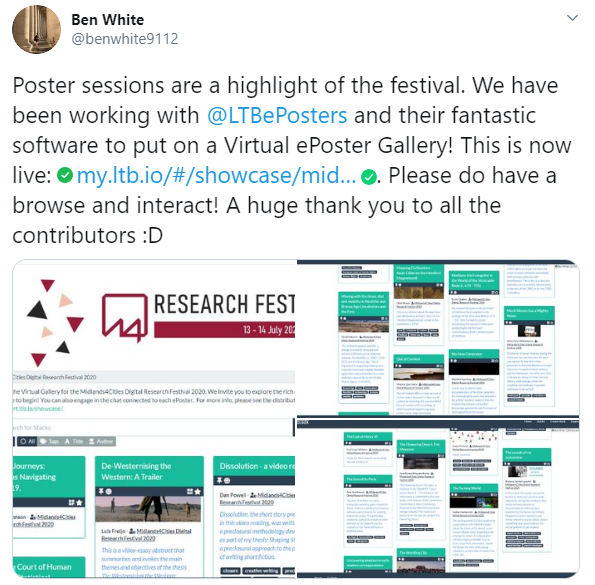 We loved seeing this creative, supportive and enthusiastic research community find such interesting ways to use the platform to support their sharing of knowledge and developing of ideas together. Thank you M4C!
Sounds of my quarantine ePoster – explore and take part!
We'd like to highlight one of the ePosters from this Research Festival that really impressed us in terms of its design, content and interactivity. It is also an ePoster with which you can interact to contribute to a very interesting piece of ongoing research. Please do take part!
Sounds of my quarantine is an ePoster by Stefania Zardini Lacedell and is part of her #SonicFriday project undertaken as part of her placement at the National Science and Media Museum. It's a beautifully designed and presented ePoster that gives an overview of her project, taking you on an audio journey through sound as heritage and digital sampling. It also includes illustrated, recollections from museum visitors/viewers about their memories of the cassette player and its impact on them. Its rich set of stories and resources helps to emphasise the important role that sound plays in our lives.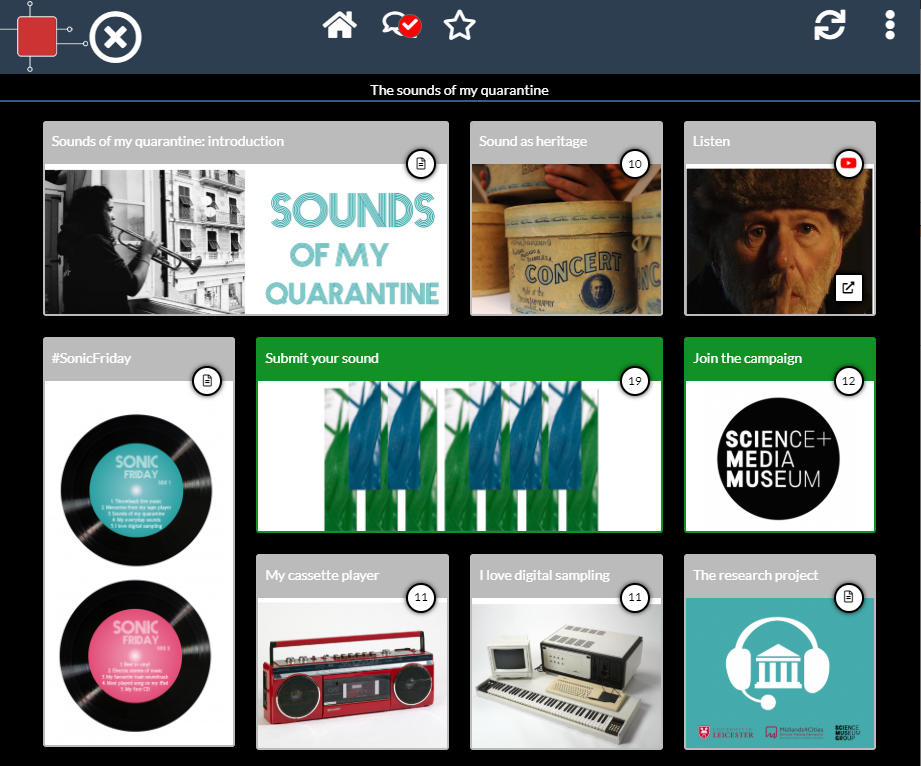 Stefania takes it even further, drawing us and our own views into her work, as she invites us to contribute our examples of sounds that have had an influence on or held an importance to us during the recent lock-down. Within the ePoster you can actually share your sound and your reflection. If you are happy for your contribution to be included as part of Stefania's research then please also complete the consent form in the ePoster to give permission for this.
Please do take the time to explore this wonderful ePoster and contribute to the #SonicFriday project.