This news post is a case study reporting on the wonderful work done by Roxy West (MEI) for ACHNE. Thank you Roxy, for sharing your experience and innovative practice in this way!
Groundhog Day:  Pivoting from In-person to a Virtual Event…Again.
A Case Study in Virtual Content Presentation Innovation
Roxy West, CAE

Using Learning Toolbox as more than an ePoster collection site turned our Annual Institute on-demand content into an engaging, dynamic and innovative product that attendees are still talking about and authors are still using to showcase their work. 
The Association of Community/Public Health Nurse Educators (ACHNE)'s mission is to advance population health through quality community/public health nursing education, research, and practice.  The primary means for achieving this goal is ACHNE's Annual Institute. For over 40 years, the ACHNE Annual Institute aims to provide a scholarly and supportive meeting ground for those committed to excellence in community and public health nursing education, research, and practice, focusing on learning from history to improve future population health practice.
The 2020 Program Committee members were enjoying a well-earned break before jumping into 2021 planning by the time stay-at-home orders and event cancellations began in March of 2020.  Like so many other organizations last year, we took our in-person content – 2 and a half days filled with general sessions, keynotes, a business meeting, committee reports, and over 40 concurrent podium presentations – and rearranged it to fit into 2 days of Zoom meetings with very little time and no budget. The result was less than perfect but it got the job done using the tools we had on hand and managed to turn a profit.  With slashed university budgets leading to declining membership numbers, this was something the association desperately needed to stay afloat.

2020 Annual Institute Virtual Conference Landing Page
At the end of our virtual 2020 meeting, we were convinced we would be in-person again in June of 2021. A nearly 100% increase in attendance numbers, combined with exceptionally high approval ratings for the virtual event, made it clear that virtual content would be a "must-have" for any event moving forward. The 2021 Program Committee moved forward with the expectation that they would produce an in-person event with virtual components to engage members that otherwise would not be able to attend.
By the Mid-year Board of Directors meeting in October 2020, it was clear we needed to pivot…again.
With the decision to cancel our 2021 in-person event made 7 months before the event, I knew I needed to take the lessons learned in 2020 and provide a smoother, more robust, virtual conference than we had previously.
We were lucky in 2020 as we had had already begun to invest in digital software to provide conference content in innovative digital formats.  With electronic abstract management systems and electronic poster software, we were able to integrate readily into a fully virtual format without much disruption to our data collection plans.
Our abstract management software provided the ability to collect authors videos, but it was clunky, static, and costly.  Videos recorded by our podium presenters were collected and uploaded by the abstract management company and attached to an author's abstract.  These videos were built into a website in alphabetical order.  Attendees quickly found there was no way to search or interact with the author.
On the other hand, our ePoster software allowed poster authors to upload not just a PDF of their poster, but also supporting documents, links, and even recordings.  Once an ePoster stack was created, authors had the ability to easily update their content and attendees had the ability to sort by poster title, author, and even track.  Additionally, attendees were able to interact with the poster authors through a chat function giving the posters a dimension the podium presenters lacked. It was clearly the winner between the two platforms we used to hobble together a virtual conference in 2020.
Discussion
Pain Points
Author/Attendee Interaction
Search and Sort Functions
Ease of Management
Cost
Solutions
Utilize Current Software Contract – Learning Toolbox
Create multiple showcases to organize different types of content – ePosters, Podium Presentations, Keynotes & Plenaries.
Presentations tagged with Tracks for ease of sorting
Authors granted the ability to upload and design their own digital space
Design Virtual Office Hours into event schedule
By late 2020 there was an influx of software emerging to provide digital conferences, but they were mainly geared toward larger events and organizations, and we found they were not cost effective.  I knew that we would not renew our contract with the abstract management software company.  It was much too costly for the static product delivered.
Ultimately, we were already using the solution to our on-demand content organization.


Our ePoster Software, Learning Toolbox, had not been used to its fullest potential in 2020.  Using our abstract management software to organize pre-recorded podium presentations required the authors to send their recordings through a data transfer service and then spend manhours uploading and organizing them on a video website.  It was cumbersome, time-consuming, and produced a lackluster result.  Expanding the use of Learning Toolbox beyond ePosters allowed us to give our podium presenters autonomy over their virtual space.  They were able to record their presentation and upload the video on their own time.  It also allowed them to add supplemental materials, links to references and externals site, and provided a space for them to interact directly with their intended audience utilizing the chat function.
We also used Learning Toolbox to house the recordings captured during our live Zoom plenaries and keynotes.  This gave our plenary and keynote speakers the same ability to provide supplemental information after the conference.  This was especially useful for plenary speakers that ran out of time during their presentation as they were able to provide additional information and references that would have otherwise been lost to the audience.
The best part about using Learning Toolbox Showcases to host the on-demand content was that attendees were able to search by title, author, and track, something that had been lost in 2020.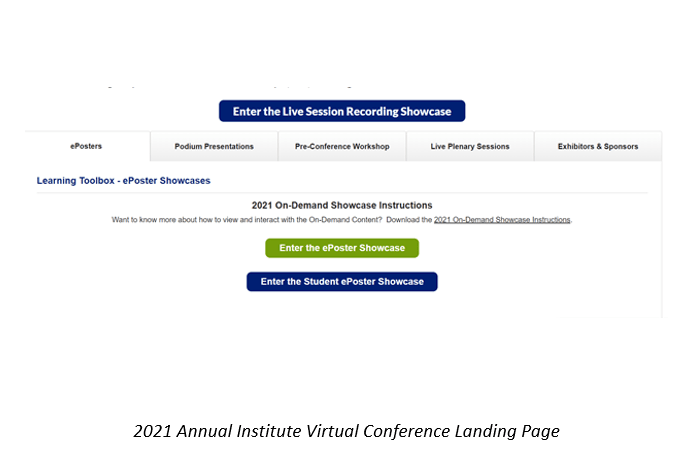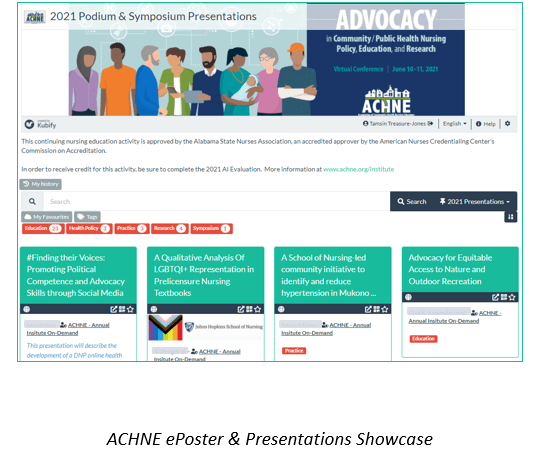 We did find that the chat, although engaging, would not provide the face-to-face feedback that we wanted for the poster authors.  If we had been in person, there would have been a cocktail poster hour where attendees could walk around the poster hall and interact directly with the authors while viewing their posters.  In 2020, we addressed this issue but scheduling an hour in Zoom where poster authors would be present, and attendees could join and ask their questions.  This was less than ideal as not all the authors could join and there was some confusion since it was not a poster presentation hour.  Many attendees had not yet viewed the posters before joining the zoom.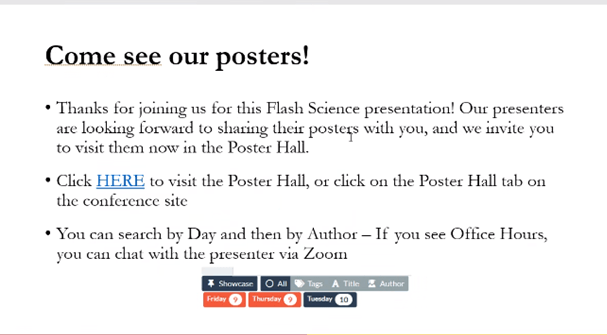 Example of messaging to attendees advertising Office Hours
In order to recreate this experience in a virtual world, but avoiding the confusion and difficulties of 2020, we designed the concept of Office Hours into our instructions for poster authors.  We asked that each author designate a time within a set timeframe after the Annual Institute to be available for questions.  Poster authors scheduled this time using their own video conference account, most used Zoom, and then posted the time and login information in an Office Hour tile within their stack.  Attendees were instructed to watch for these tiles so that they could drop into the author's virtual office and discuss the poster.  This led to greater engagement for the audience and quality feedback for the authors.

A Learning Toolbox ePoster with an Office Hours Tile
Using Learning Toolbox as more than just an ePoster collection site turned our Annual Institute on-demand content into an engaging, dynamic, and innovative product that attendees are still talking about and authors are still using to showcase their work.
---
Want to find out more?
You can contact MEI  (mei@meinet.com) or contact Kubify (info@kubify.co) for more details.
You can also watch a 4 minute video of Gilbert Peffer (Co-founder of Kubify) talking about the ACHNE case study as part of The Association Show.